The Phone/Drive Thru home screen of NCR Silver™ Pro Restaurant Edition enables you to create, manage, and track takeout and delivery orders.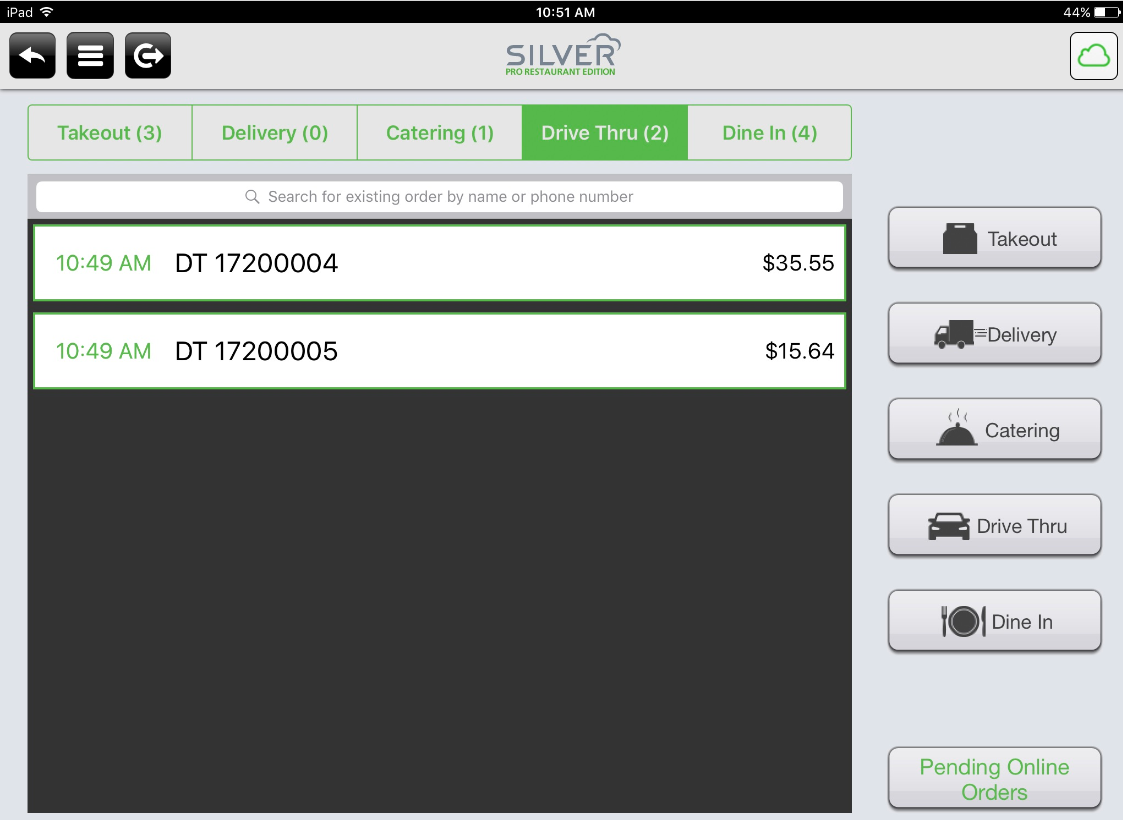 Navigation options — Tap a button to navigate the app. Tap to return to the previous screen, tap to see a slide out menu, or tap to log out of the app.
Open orders — Tap one of the order type tabs to see a list of open orders for the specified order mode. The number inside the parentheses next to the order mode indicates the number of open orders.
Search field — Enter a customer name or phone number to search for an existing takeout or delivery order.
Order target time — Indicates the promise time for the order.
Connection status — Indicates the connection status of the device to the host, and Silver Server, if configured. A green signal indicates connected, and a red signal indicates disconnected.
New Order Buttons — Tap to initiate a new order. Available order types are configurable in the back office.
Takeout
Delivery
Catering
Drive Thru
Dine-in
Pending Online Orders — Tap to review online orders which have not yet downloaded to the takeout or delivery queue.
Accessing the Takeout and Delivery Screen
You enable additional order modes in Back Office. Access Settings > Store > Store Options, select the order mode you wish to enable, and click Save. You can configure additional charges associated with the order type if needed.
Access the Phone/Drive Thru home screen on the device by tapping Takeout/Delivery at the POS home screen. It is necessary to activate a financial shift prior to accessing the Takeout and Delivery home screen.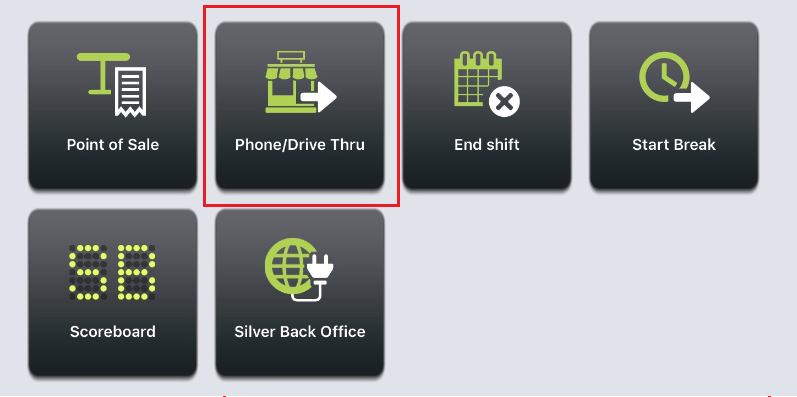 Phone/ Drive Thru orders require a customer name and phone number, and delivery orders require a customer name, phone number, and address.
The app does not calculate a promise time. The app prompts you to enter a target time for the order, which is the time for the order to be ready for pickup or for a driver to leave the store with the items.
See also:
Setting up Company and Store Information
Entering a Takeout or Delivery Order
Searching for an Open Takeout or Delivery Order
Modifying the Order Target Time for a Takeout or Delivery Order