Recalling/Reprinting a Receipt
Use this feature when you want to recall a completed sale and/or re-send the receipt for a completed sale.
| | |
| --- | --- |
| | The Recall/Reprint button is available only if there are no items on the current ticket. |
Follow these steps to reprint a recent receipt or re-send it via email:
Do one of the following:

Locate and tap on the completed ticket you want to recall on the Recall/Reprint screen from the Completed tickets section of the screen.
| | |
| --- | --- |
| | By default, the Recall/Reprint window displays sales that were performed on the POS device you are using (This station).  If the sale was performed at another station, tap the All stations button to display completed tickets from other stations as well.  If you are looking just for sales that you performed, tap My tickets. |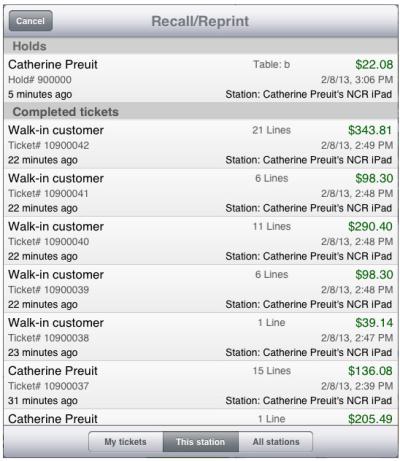 From the Receipt window, print the receipt or send it to the customer via e-mail.
| | |
| --- | --- |
| | If you add an existing customer to the ticket first, the recall will only display completed tickets that were assigned to that customer. |
recall, reprint, receipt, pos