The Bixolon SRP-275ii printer connects to the router through a wired Ethernet connection. This printer is an impact printer ideal for use as a kitchen printer. Impact printers tend to be louder than a regular printer, which can alert kitchen staff to new orders. Also, image printers are not susceptible to image distortion, which can occur with thermal printers in a hot environment such as a kitchen.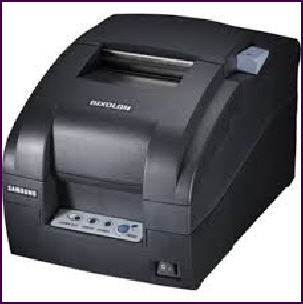 To set up the Bixolon SRP-275ii printer with a wired connection:
Connect the

power cord

to the AC adaptor.

On the underneath side of the printer, insert the

AC adaptor cord

into the power connector.

Insert the

AC adaptor

into the slot underneath the printer.

Plug the

power cord

into the outlet.

Plug one end of the

Ethernet cable

into the Ethernet port on the back of the printer, and plug the

other end

into an available LAN port on your router.
To load paper into the Bixolon SRP-275ii printer:
 
Press the

open button

on the top right side of the printer to open the rear cover.

Place a

paper roll

inside the compartment with the end of the roll on the bottom.

Pull a

portion of paper

over the receipt paper roller and close the

cover lid.

Press the

FEED button

once to test the paper loaded correctly.

Tear off the

excess paper

.
To insert the ribbon cassette for the Bixolon SRP-275ii printer:
 
Before inserting the ribbon cassette, turn the

knob

on top of the cassette clockwise to prevent twisting the ribbon.

Insert the

ribbon cassette

. Make sure you place the ribbon behind the printer head.

Turn the

knob

on the printer cassette clockwise to ensure the ribbon moves freely within the cassette.

Close the

front cover

of the printer.