Safe Drop Pay Outs
Safe Drop Pay Outs can be used to track money that has been physically removed from the POS and put into a safe, but should still be included in a bank deposit. 
Safe Drops are reported separately from POS cash deposits on the store summary page so managers can more accurately track the store's money.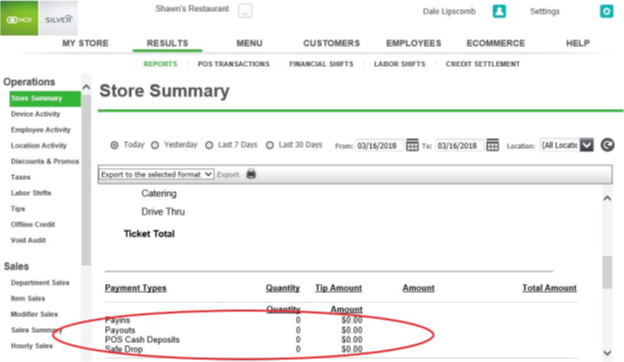 Safe Drop Example: 
The example below illustrates how a Safe Drop works: 
Cashier completes a $349.00 cash sale.
The Manager does a $10.00 Miscellaneous Payout (Pay Out Other) to get some supplies for the store.
The Manager completes a $100.00 Safe Drop (with the exclude from store summary cash deposit flag enable)
Shift ends
If the financial shift started with $0.00 in cash:
After transaction1, the financial shift has $349.00 in cash. 
After the first pay out, the financial shift has $339.00 in cash. 
After the safe drop, my financial shift has $239.00 in cash. 
Once the shift ended, the cash drawer has $239.00 in cash, which is placed into the safe. 
At the end of the day, the manager takes the $100 safe drop from the shift and the $239 from the shift to the bank. He has $339.