Setting Up the Mobile Receipt Printer Model 200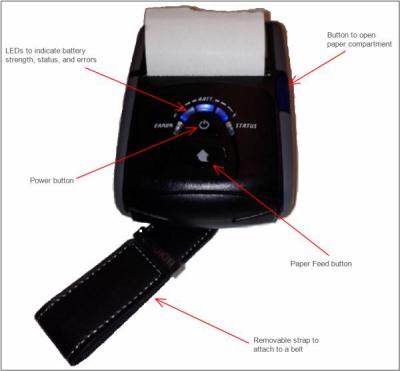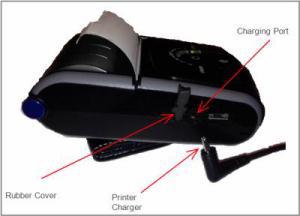 Powering on the Mobile Bluetooth Receipt Printer
Make sure you fully charge the printer for 2.5 hours before first use.
| | |
| --- | --- |
| | IMPORTANT:  Turn off the power before charging the battery. |
Press and hold the power button on top of the printer for 3 seconds. You will see the LED lights flash and hear ascending beeps.
Loading the Receipt Paper
Press down the blue button on the top of the printer to open the paper compartment.
Drop a roll of 2.25 inch receipt paper into the compartment with the end of the roll coming from underneath. 

Pull an inch or two of paper through the slot of the printer before closing the lid.
| | |
| --- | --- |
| | With the printer turned on, press Paper Feed  button to test that the paper is loaded correctly. |
Connecting the Mobile Receipt Printer to the POS App
 
| | |
| --- | --- |
| | IMPORTANT:  Only one printer can be powered on at a time during setup.  Also, due to the nature of Bluetooth, multiple Bluetooth printers can be connected to one device, but multiple devices cannot be connected to one Bluetooth printer. |
 On the POS device, go to the "home" screen by clicking the Home button, then tap the Settings app , and then tap Bluetooth.

Make sure the Bluetooth is set to On.

To pair the device:  Look for the mobile printer (SPP-R200II) and tap on it.

The PIN code is 0000 (four zeros).  Enter the PIN and tap Pair.

Blue lights will illuminate on the printer whenever a device connection or disconnection occurs.

Open the POS app and log in using your PIN.

Go to the POS app

Home

screen

by tapping the Home icon 

in the upper-left corner of the screen.

Tap near the top-right corner of the screen.

Tap Configure Printers.

Tap Find new printer.

Tap Bluetooth.

Provide a Printer Name that is something meaninful to you, such as the Mobile Printer.

Toggle one or both of the receipt printing options (receipt printing and/or kitchen printing ) to On.

Tap Done.

 Tap the  next to your printer.

Scroll down and tap Print test receipt to test the printer.

Set the printer to Deffault if you primarily print to this printer.

Tap Done when you are finished.