A tax category allows you to assign a single tax rate to one or more items. You can configure as many tax categories as necessary for the items you sell, and designate a specific tax category to use as the default when you create a new item; otherwise, the system defaults the tax category to a 'No Tax' category. For example, create a tax category called Food Tax and assign it to food items, such as hamburgers and french fries. Create another tax category called Alcohol and assign it to your alcoholic beverages, such as beer and wine. When you create a guest check for a hamburger, french fries, and a beer, the system calculates the applicable tax based on the tax rate associated with the tax category assigned to each item.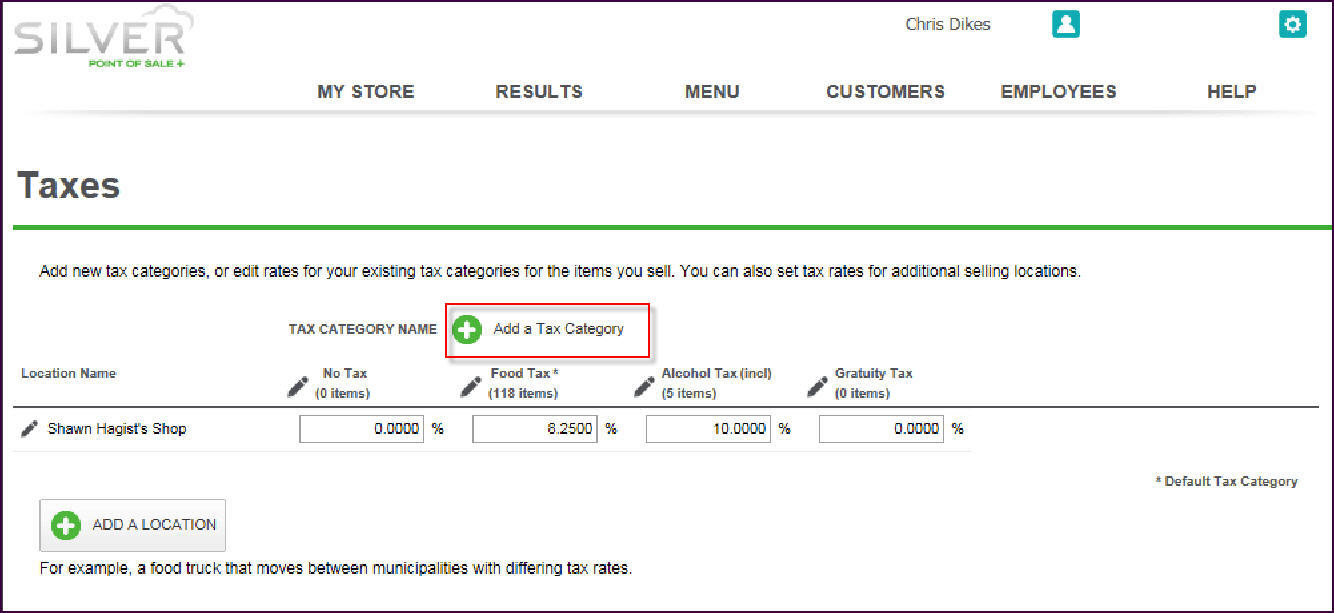 Setting Up a Tax Category
Select

Settings > Taxes

.
Click

Add a Tax Category

. The Add New Tax Category screen appears.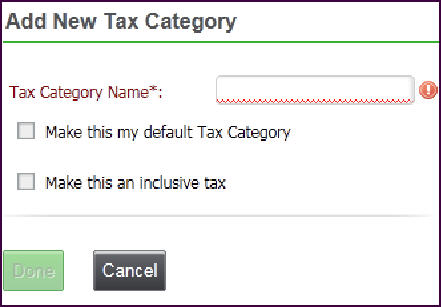 Type a

name

for the tax category.
Select

Make this my default Tax Category

, if you plan to use this tax category for applying your main tax rate. You can only select one tax category as the default. On the Taxes page, the system identifies the default tax category with an asterisk next to the name.
Note:

 

When you create a new item, the system applies the default tax category to the item; however, you can change it if needed.
Select

Make this an inclusive tax

to include the sales tax in the quoted price to make the transaction easier for some items, such as alcoholic beverages. For tax categories identified as inclusive, Silver Back Office adds '(incl)' next to the tax category name on the Taxes page.
Click

Done

to return to the Taxes screen. The new tax category appears to the right of Location Name.
Locate the category just created and type the

applicable

tax rate

.
-OR-
Click the

ellipsis

(

…

) to select a tax table. The Select Tax Table screen appears. Select a

Tax Table

from the drop-down list, and click

Done

. 
Before you can select a tax table to use, it is necessary to first create the tax table. Refer to Creating a Tax Table.
Click

Save

.
See also:
About Taxes
Creating a Tax Table
Working with Tax Jurisdictions
Adding a Tax Location