NCR Silver Essentials > Marketing to Customers > Welcome Email Messages
Welcome Email Messages
---
Note: To ensure you are adhering to current laws, make sure you have the customer's permission to email them before including them in any email marketing campaigns.

Use the Welcome Email feature to welcome customers to your store and to also entice them to return by attaching an offer or coupon to use on their next visit to your store.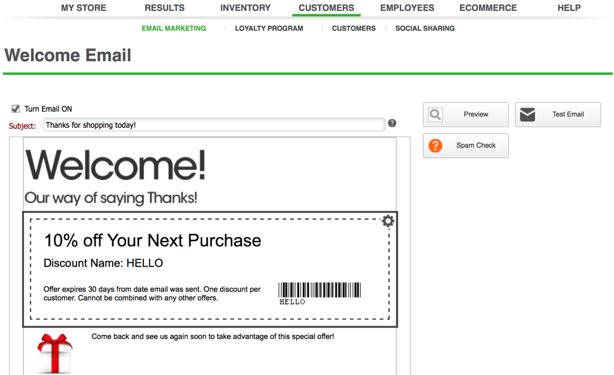 To customize your Welcome Email:
Write an eye-catching Subject line.

Attach an offer (optional).  

OPTIONAL: Click Preview to view the entire email (along with headers and footers), send a Test Email and enter up to five email addresses to allow you to see the email exactly as your customers will see it and/or check the Spam Score to see how likely your customers are to receive your message.
That's it! Once you select Turn Email ON, the system will automatically send the Welcome Email to your customers as soon as you enter their email address. There's nothing else you need to do. You can come back and make changes to your Welcome Email at any time.