The Ingenico RP750 is a compact, user-friendly payment device which accepts  Chip and Pin EMV payments (dip) as well as traditional magnetic strip card payments (swiped).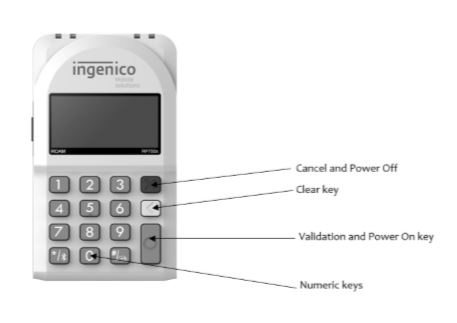 Charging the RP750
A USB charge cable is include when the RP750 ships. Plug the larger USB end of the cable into a computer or charging accessory. Plug the other side into the RP750 and the device will charge
Pairing the Device to the Silver Pro Restaurant POS
Plug in the RP750 and power it on.

If the reader is in pairing mode upon power up, hit the red button to stop it.

DO NOT PAIR IN THE TABLETS BLUETOOTH!

Log into the POS application.

Tap the box in the top left corner with 3 lines to open the slide-out-menu.

Tap Settings

Tap "View PIN PAD Details"

Tap the device when it appears on the list.

A pairing code will appear on the tablet, and you will be prompted to enter this code into the Reader.

once the code is entered the reader will be paired.
FAQ
How do I know the status of the battery in my RP750x Reader?
When the battery is fully charged, the red light on the device will remain illuminated.

When the battery is at 10% or less, the Red light will blink intermittently on the device.

Additionally, if the battery level is 15% or less, there is a visual indicator on the navigation bar indicating that the reader's battery is low

What do the LED lights on the top of the Reader indicate?


There are 4 LEDs on the top of the Reader used to indicate progress of a transaction.
Blue – For contact-less transactions, indicates that the Reader is waiting for card. The Reader will also beep, indicating you should swipe or tap the card.

Yellow – Indicates the Reader is reading the card.

Green – Indicates the card read was successful.

Red – Indicates a card processing error.
Note: The yellow and green lights turn on and off quickly.