Working with the Email Image Editor
The image editor lets you resize an image, add a link URL, and alternate text after they upload an image.  To access the image editor,click on a populated image box in an existing email or click on the option gear  

and selecting Edit Image.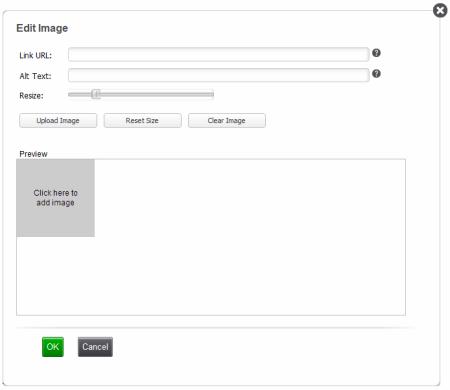 Enter your store's website address (URL) in the Link URL field.  This way, when your customer clicks on the image, they will automatically be taken to your store's website.

Enter your store's name or website address in the Alt Text field in case your customers do not have images enabled for their email.

Use the Resize slider to resize an image after you have uploaded it.  Resizing smaller images to look larger may look pixelated or "grainy".  It's best  to upload images that are larger and then resize them to be smaller.

Click Replace Image to upload a new image.

Click Reset Size to reset the image to the size it was when the image editor was opened.

Click Clear Image to place the default placeholder image in its place until you are ready to upload a new image.
 
keywords: image editor, email image editor, marketing, emails, customers