NetGear Wireless Extender Setup
Introduction
If you have more than one iOS device that needs to print to the same kitchen printer and a wired connection is not possible, we recommend you use the NetGear Universal WiFi Range Extender (WN2000RPT) to extend wireless connectivity to your kitchen printer.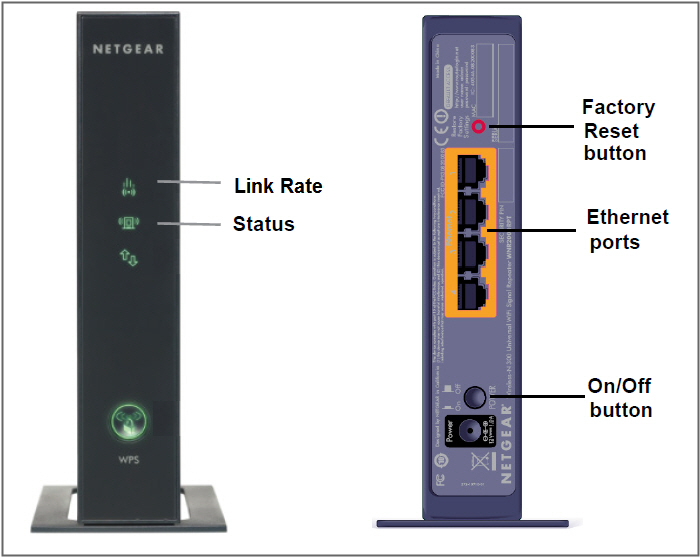 Getting Started
Start by placing the extender within reach of your kitchen printer and plugging the extender into an electrical outlet.

Turn the extender on.

Wait 1 minute for the extender Status LED to turn green.
Connecting the Extender to an Existing Wi-Fi Network
On your POS device, tap  to open the Settings app and then tap Wi-Fi.

Locate the wireless network NETGEAR_EXT (SSID) and tap it to connect.  The extender Link Rate LED should turn green once a good connection is established.

From the same device, open a web browser, and you should be taken directly to the on-screen setup guide.  If you are not taken directly there, navigate to www.mywifiext.net.

The web browser will walk you through the following steps:
Connecting your Kitchen Printer
With the printer turned off, connect the printer to any one of the four Ethernet ports on the back of the extender using the supplied Ethernet cable.  Turn the printer on and wait 2 minutes.

Turn the printer off, hold down the Feed button, and turn the printer back on while continuing to hold down the Feed button until the printer beeps three times.

On the printer self-test receipt, look for "IP ADDR:" followed by a number beginning with 153.xx.xxx.xxx.  If you do not see "IP ADDR" or if it appears in any other format, unplug the kitchen printer and repeat steps 1 through 3.

Wait for the printer self-test receipt to complete printing and then press the Feed button once more to exit the printer setup mode.  Save the self-test receipt.
Configuring your Kitchen Printer
Open the POS app on your POS device.

Tap  and then tap the settings gear .

Tap Configure Printers.

Tap Find New Printer.

Tap Wired Directly to Router.

Do one of the following:
If the POS app finds the printer, configure it and tap Done.  That's it!  You have completed the setup.

If the POS app does not find the printer, continue with step 7.
Follow the on-screen instructions and enter the IP address you found earlier on the self test receipt. The IP Address should begin with 153.xxx.xxx.xxx.
If you see an error message, you will need to enter the IP address again before it is accepted.

If you continue to see the error message, reprint the IP address and confirm it is correct.
Once your printer is found, configure it and tap Done.  That's it!  You have completed the setup.